Another Great Trip in the Books! (May 18 – 25, 2013)
Saturday, May 18 – We boarded our plane for ATL and were all ready for the flight when the Captain informs us that we'll have a 20 minute weather delay. Normally, this would be a problem as our usual layover is only 50 minutes, but this ticket purchase gave us a 2 hour layover. After our 20 minutes, we back away from the terminal and it becomes apparent there's more going on. Yep, the left engine generator light is on and they have to get the technicians out to check on it. So, we sit for an hour (we could go to the restroom while we waited) until they get it all figured out and off we go. Luckily, when we get into ATL we only have to go from "A" concourse to "B". On our way we pick up a pretty good sandwich from the TGI Fridays kiosk. We arrive at our gate just as they're starting the boarding process, and the flight crew is still arriving. Their flights were also weather delayed.
Getting in at McCarran and over to the car rental facility was easy as usual. We pick up a mid-size rental at Dollar for $157 for the week (including taxes and fees), a great deal. Off to check in for night #1.
Checked in at Silverton and the nice check-in person gave us a room by the pool. When we mentioned that we're east coasters who go to bed early the first night in town, she told us there was a concert at the pool that night, and we might be better off with a room in a different area, which was greatly appreciated. Afterward, we drove down to South Point hoping to get a bite to eat at Steak 'n Shake, but the line was too long and we were starving, so we ate at the Del Mar Deli instead. We ate here since we had a 4:00 appointment at the Apple Genius Bar at Town Square shopping center to have Ashley's iPod looked at (the battery was beginning to get flakey). We get a price of $120 to trade out her iPod, and we decide to see how it acts over the trip. After leaving the Apple store, we head over to "Artifact" to look at custom signs a Las Vegas friend of Ashley's makes out of old license plates. On the way, Ashley says "Look at how that woman is dressed". Well, lo and behold, it was Cocoa-T and her husband Ice T. We got a handshake out of Ice T and we all headed our own way. No picture, but that was our first celebrity sighting in Vegas. Probably, a graying 53-year-old is not who he thought his audience was going to be. We wanted to take some pics, but his body language said for us to move along. So we didn't press our luck.
5 Miles logged on the pedometer
Sunday, May 19 – We start the day with a great pre-5:00 a.m. breakfast special at Silverton. For $10.65 we both get two eggs, hash browns, toast, and we get one large OJ. A great start to the day.
Another great start to the day? Ashley hit a straight flush right after breakfast!
We go back to the room to shower and shave, pack up, check out, and head down the strip to drop off our bags at Monte Carlo.
After dropping off our bags, we head up to Moapa (about an hour trip up the 15 toward Salt Lake City – when you take the exit, they do have some well-placed signs to guide you) and meet up with some Las Vegas local friends to tour the Roos-N-More zoo. Entry and a Kangaroo behind-the-scenes tour for the two of us cost $36, not a bad deal. The zoo is only open about two weekend days a month, so you'll need to check their website prior to your trip to see if they'll be open when you're there (it's on the Off The Strip page of the Things to Do section of our website). It's not a high-dollar zoo, it's a small zoo, but they make it fun with all of the animals you can interact with. Be sure and see Remington the Lemur, Frito the Binturong, snakes, a baby kangaroo, lynx, and more. We spent about an hour-and-a-half there and it was fun. Other than Las Vegas Motor Speedway, there isn't a lot between Roos-N-More and The Strip.
We traveled back to the Monte Carlo and got in line to check in. They now have a Disney-style line to help control the chaos of check-in. While there, a petite young woman asked us if we were familiar with MLife. We told her yes, that we were gold card holders and she told us we were in the wrong line, and walked us into the VIP room for check-in. Sweet! Absolutely no wait. I tried the $20 trick, but due to the Music Awards, they didn't have any upgrades available, and got my $20 back. Oh well, good try. Went right up to our room and called the bellman, and turns out we get Michael, that we've had deliver our bags before and he has been at the Monte Carlo since the first day. He gave us a good tip about one part of our resort fee: They will restock your two bottles of water (and your 2 K-cups of coffee) once more during the day for no extra charge (so that will give you four bottles of water every day). That'll help to optimize your resort fee.
Head over to Excalibur to have some Popeye's fried chicken followed up by a Krispy Kreme doughnut. Yeah, I know. It's Vegas and we're eating Popeye's, but that's what we were in the mood for.
In past trips, we've always had a laptop with us, but not this trip – only an iPad and our phones. We could go down to the lobby to use the free Wi-Fi, but before our trip I had an idea. I brought my Linksys wireless router from home. Our phones and the iPad are on our wireless network at home, so why wouldn't it work away from home? I plugged in the LAN cable from the hotel into our router, powered up the router, and waited less than a minute and my iPad recognized the network, just like at home (BTW, it IS a password protected router, as I don't want other hotel guests leeching on my connection – and I turn it off when we're not in the room). First, you MUST launch your browser on one device to log into the Monte Carlo network once a day, but then, it works like a charm. We had our own little wireless network in our room and all of our devices could be on it at once. Now, if it didn't work, Monte Carlo engineering wouldn't help us with setting it up (I had emailed the Concierge desk to ask if they had a problem with me doing this), but if your network performs at home, it should work away from home. Hope this little tip helps!
2.85 Miles
Monday, May 20 – We have a day chock full of places to go, so what better way to get started than with a breakfast from the Peppermill! It is amazing how big their portions are. The table next to us ordered a couple of breakfast parfaits, and they were HUGE. It looked like a quart of fresh fruit, oatmeal and whipped cream. They seemed flabbergasted with the size of those things. We got a couple of Peppermill's fabulous blueberry muffins to eat later.
We started our day heading over to Count's Kustoms (behind Circus Circus, crossing over the railroad tracks).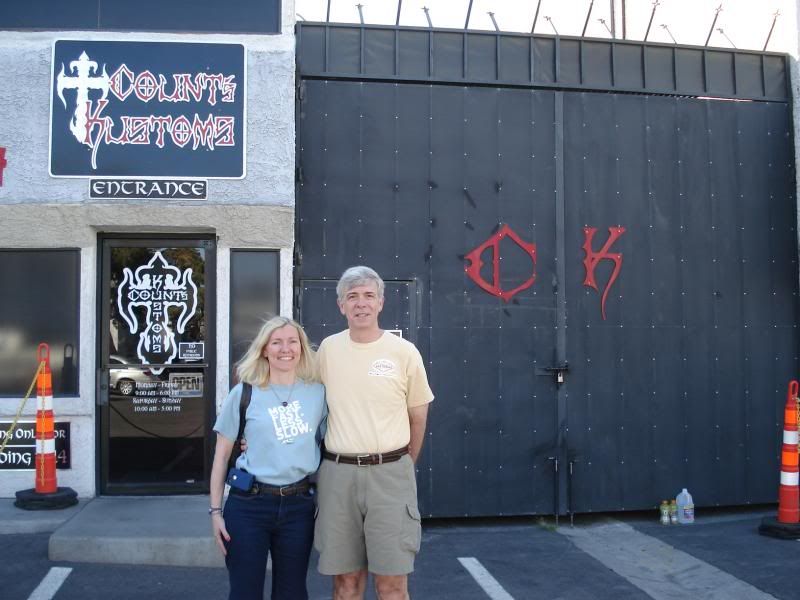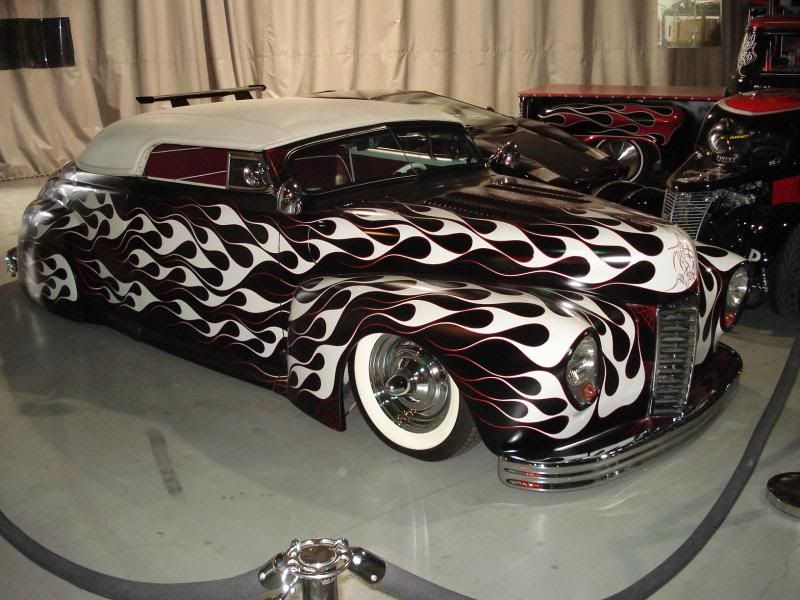 I was concerned about finding this place, but once you get off of the I-15, you can follow the signs to get you there. It looks just like it does in the television show. When we got there, it was just prior to opening and they were cleaning up the parking lot and setting up one young man to help getting everyone parked. A few minutes after we went on the tour, Scott came in to work, and made a point to come over and say hello. He was very nice. Also, while we were there, about four groups of folks came in to take the tour. This is a good tour, you'll see some great vehicles and you can pick up a little merchandise if you want. It doesn't take long and it is FREE. You just need to register when you come in. BTW, you can also go to Count's bar Vamp'd where they have viewing parties when the new Count's Kustoms shows air. Everyone there is really nice.
After leaving Count's Kustoms, we headed over to Rick's Restorations. You park in the driveway just off the street and get directed to where the tour takes place. You'll wait in a showroom with some of the items they've restored, and then walk down a hallway where you'll see some of the folks from the show, behind a glass window, working on items they are in the process of restoring. Everyone there was really friendly and we saw Ron and Brettly while on the tour.
We tried out the new location of our favorite, Metro Pizza, and while the pizza was as good as ever, they were in the weeds and service was a little lacking. So, next trip we'll be back to the Trop location. We also checked out Maximum Comics (where we got to hang out with our new best friend Darth Maul) and I got a "Walking Dead" comic.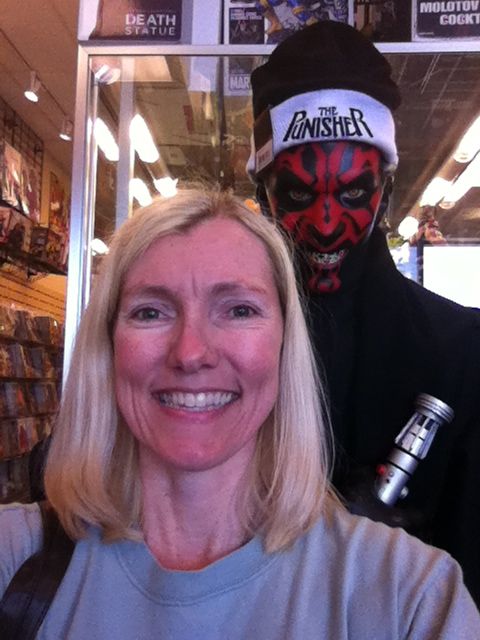 We went to Hi Scores Barcade to check it out (they serve Las Vegas Distillery liquors), before returning to Monte Carlo for the night.
We recovered some of our losses, despite not having any drink service (Boooo!). One hand that helped was on a 50-play machine when I held a QA10 of Spades and drew a Royal on one of the hands.
We got a chance to see the Blue Man Group procession through the hotel. Ashley chased them like a four year old, squealing and taking pictures. Everyone should see it if they have a chance. Procession is at 6:15PM on show nights. They start near the box office, wind through the casino floor, stop in the lobby, and proceed back through the casino ending near the box office again.
3.75 Miles
Tuesday, May 21 – We start the morning with two buffet breakfasts at Monte Carlo courtesy of MyVegas. Except for runny eggs, it was pretty good.
The buffet does offer an omelet station if you are so inclined.
After breakfast, we headed over to Guns & Ammo Garage (behind Luxor on Dean Martin) for some range time. I shot a Thompson machine gun, while Ashley shot a Beretta 9MM. They offer a free shuttle to/from their place if you need transportation. If you don't want one of the big expensive packages they offer, just pick out the gun you want to shoot off their gun wall. You could save some dough.
Then we headed over to Grouchy John's for a fruit smoothie the call a Lando, which was mighty tasty.
Our room safe had a low battery and was hard to open so maintenance came and fixed the battery. We also found out MUCH later why the safe had a hard time opening and closing and that is not a good thing. (Spoiler: make sure your keys are not around the hinge of the safe.)
We had dinner at The Café, again, courtesy of MyVegas Buy One, Get One, where we had an excellent dinners (I had spaghetti and Ashley had fish) and a warm berry cobbler with vanilla ice cream. All the times we've been to the Monte Carlo, we've never eaten here. Well, we plan to eat here from now on, it was good and the people are excellent.
I sat down for a night at Hexbreaker, and the Blue Man Group procession came by and was just as enjoyable as the first time. Hexbreaker had turned around and it was putting me way ahead for the trip. After the worm turns, and my luck starts to go bad, I cash out well ahead for the night. "Score" bar, outside of the sports book, is the place to go if you want drink service at Monte Carlo. Enjoy some video poker, watch the game, and get served by Scott. Yes!
We head over to the Cosmopolitan to visit the Kid Robot store and pick up a few things. If you check in on Foursquare, you can earn a discount!
4.75m
Wednesday, May 22 – We start this morning with a GVR 2-4-1 breakfast for the excellent price of $7.56 (courtesy of a Las Vegas Advisor coupon & the player's club card deal). Afterward, we play a few games with not too much success. We remember they have a non-smoking section, and decide to head over. We find the 99.89% nickel machines (10 coin max) and have a seat. We played for quite a while, up some, down some. All of a sudden, I have a ROYAL FLUSH! I cash out my $400 and we head over to REI at The District for some shopping.
After a trip to Grouchy John's for a coffee, we meet our Las Vegas friends again for a tour of the Las Vegas Distillery and then the Booze Brothers retail store. We purchase a Rumsky to take home. This is where it gets interesting. UPS, FedEx, USPS, etc will NOT ship alcoholic beverages (unless you're a registered liquor distributor with a license to ship across state lines). Post 9/11, you cannot ship Alcohol in your checked bags. Period! So, what are you to do? Well, if you want to get your liquor home, you check the TSA website for the actual rules. For your future information: If your liquor is between 24% and 70% alcohol content, you can ship up to five liters, if it is less than 24% alcohol content, they don't consider it a hazardous material. If the alcohol content of your bottle is higher than 70% (140 proof), you cannot pack it in checked baggage at all. Rumsky is only 20% alcohol content, so it ended up not being an issue, we just needed to find some bubble wrap (and hope an overzealous TSA inspector didn't take our bottle out of our luggage).
We head to Monte Carlo and Ashley tries out the pool for a short while as it is still a bit cold for her. So she gets dressed, and we head over to McMullan's for our usual once-a-trip evening meal. We were not disappointed. Two tips: share an order of Irish Nachos & get one of the Bits of Beer flights.
We sat down to have an evening of gaming and did so-so, but I can't complain after my Royal this morning. The only thing I can complain about, it the still non-existent drink service.
3.5m
Thursday, May 23 – We start with a 2-4-1 breakfast at the Garden Buffet in South Point (coupon courtesy of the Las Vegas Advisor online coupon site for members) for $8.46. The buffet features unlimited Bloody Marys every morning, Mon – Fri for that special start to the day. We decide to drive over to the Freakin' Frog (across from one entrance to UNLV on S. Maryland Pkwy off Tropicana) to get a look at the Whiskey Attic we'd heard about. They're supposed to have over 850 different whiskeys from all over the world, but alas, it's not open yet. So, we head on over to Aveda to get some pampering.
After Aveda students have had a chance to work on us, we head over to the MGM Grand to participate in Television City's opinion survey of the "Two Broke Girls" season finale. Afterward, I get picked for a focus panel for more in-depth questions & answers. It takes an hour of my time and pays $50. We had a little time to kill and decided on dinner at The Pub. It was good and was courtesy of MyVegas. I went off for the focus panel and Ashley tried not to lose her mind waiting for the check. While I was at MGM, Ashley managed somehow to play a bunch of rounds of video poker at the Ignite Lounge, get her happy on, win some money at Hexbreaker, walk down the strip, get a "don't go to hell book" from some proselytizing man on the bridge over LV blvd near NY-NY, buy lots of Hi-Chew from ABC store, visit Adidas, Coke (and meet someone from our neck of the woods), get her pic with an M&M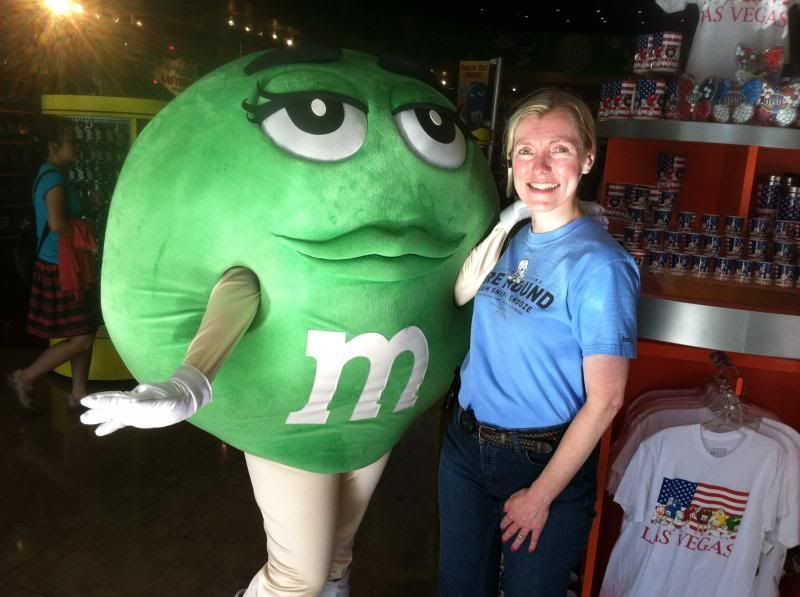 , meet a lady taking a ride on her dh's motorized scooter, take lots of selfies, walk back to Monte, and find a sunny spot by the pool to chill out. That girl can MOVE in an hour! When we met back up I played some Hexbreaker but didn't do anything. Ashley played spin poker and was about even. We went to Score for a crappy night of video poker, but a fun bartender.
5.7m
Friday, May 24— We had gotten a really great mailer from the M and we hadn't spent much time there so we thought we'd give it a go. Studio B buffet (coupon for BOGO) for $11.88. WOW. This is one beautiful place, good food, a lovely restaurant with a lot of nice people. I played video poker and Ashley gamed her limit and then got some sun outside the casino while I gamed.
When we were done, we headed toward Monte Carlo and we decided to swing back by the Apple store at Town Square Shopping Center to go ahead and upgrade/replace Ashley's beloved iPod. She explained to the very nice employee that she loved her iPod and it wouldn't hold a charge. He explained that they don't replace batteries and said since it was definitely a battery issue and it would be $59 (including going to an iPod with twice the memory). Ashley hugged his neck.
Thought we'd wander through Mandalay and Luxor. Eventually got a few things at the Lush store since we don't have one at home. Their Ice Blue soap is great stuff. Went back to Monte to drop off our purchases and take a break before looking for dinner. M had a promotion and we couldn't get that till later in the day so we stopped in and I picked out an athletic shirt. Dinnertime! Sadly we eventually found out our favorite place, Carluccio's, is gone. They may reopen but it's gone for now. We got some Freed's brownies next door and headed back to the hotel. The Café's early specials looked great so we gave them a try. I got the Cheesesteak and Ashley got a small pizza. There was no evidence of what she ate after about two minutes. It was on a really thin crust like a wrap or pita and she inhaled it. So it must have been good!
Side note: Ashley gets a phone call from a neighbor. She wanted to make sure everything was okay at the house. Why? "Because y'all keep your stuff straight and that mower has been in your side yard for DAYS." LOL. We had our mower repaired while we were gone and the guy was supposed to put it in the back yard. Good to have neighbors watching out for you. Our silly housesitter didn't move it.
In about a week we hadn't made it ANYWHERE north past about Cosmo so we took a short trip. Grabbed a cab and got stuck in traffic heading to see the Quad. Wow what an improvement. They were busy and already were having drunks darn near carry each other in the door. We wandered through Margaritaville and got their version of the Total Rewards card. Very cute card. Went over towards Caesars and saw one homeless guy with a great sign "nothing left to eat but the rich". Ponderous. Then Ashley got tickled at one of the street performers. He had a blues feel and was singing Midnight Rider. He was really into it and was making intense eye contact with everyone as he sang, "I'm NOT gonna let 'em CATCH ME NO! NOT gonna let 'em catch the midnight rider." Wish we'd taken video of that guy. If anyone sees him, seriously, get some video for us! We walked through the Bellagio Conservatory. It's beautiful as always and filled with birds. Hopped the monorail back to Monte and met up with a different casino host, Rick. Very nice guy and he likes our LVFB site. Smart man.
5m
Saturday, May 25—This was our latest check out (we're usually leaving before the drunks wander back to the rooms). We headed down to The Café for some morning nosh to start all of the airport madness. We gamed a little this morning. Aria was seriously, unmercifully mean to us. We checked out and headed back to the car return saying bye to Vegas along the way. It feels so much like a home away from home now. Car return was easy, hopped the bus to McCarran, and checked bags with the skycaps. SERIOUSLY don't take your bags inside, tip the guys a few dollars outside and save yourself a lot of hassle. The TSA security line was pretty long, but we came on through and checked in with time to spare. Made a last lap through the airport souvenir store but didn't buy anything. Why is it when you get to the Atlanta airport you always seem to fly into the part that doesn't have what you're hoping to eat and don't have time to explore? Anyway, we grabbed some McDonald's and munched out while waiting for that last little hop back to SAV. Got home, got the bags, walked to the car, got in with the remote and – UH OH! Key is as bent as a mad woman. So THAT'S why the room safe was difficult to close! After some swearing, pleading, and standing it on the concrete it finally worked enough to turn over the ignition. Let's go home! And the rest was a breeze, sort of. Got home and the house was hot. Uh oh! I change the thermostat a little, but not THAT much while we're gone. Find out later that the capacitor had gone kaput during our vacation. Luckily it had enough juice that during the night, the house did get cool after the shade hit that side of the house with the a/c unit. Ashley was off Memorial Day Monday and the A/C company fixed us up. We were happy to be home, just not to be hot. Crashed and started planning the next trip in our dreams.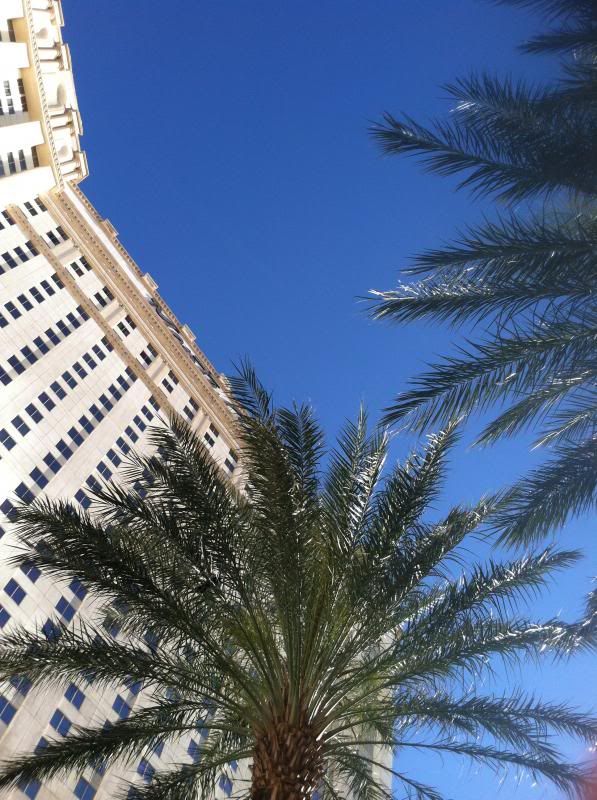 We met so many nice people this trip and handed out just shy of a bazillion LVFB website cards.
Thanks for staying with our long story. Maybe we'll see you in Vegas soon!
Stop by our website or our FaceBook page and say hello.
Daryl & Ashley